[fusion_builder_container background_color="" background_image="" background_parallax="none" enable_mobile="no" parallax_speed="0.3″ background_repeat="no-repeat" background_position="left top" video_url="" video_aspect_ratio="16:9″ video_webm="" video_mp4="" video_ogv="" video_preview_image="" overlay_color="" overlay_opacity="0.5″ video_mute="yes" video_loop="yes" fade="no" border_size="0px" border_color="" border_style="" padding_top="20″ padding_bottom="20″ padding_left="0″ padding_right="0″ hundred_percent="no" equal_height_columns="no" hide_on_mobile="no" menu_anchor="" class="" id=""][fusion_builder_row][fusion_builder_column type="1_1″ background_position="left top" background_color="" border_size="" border_color="" border_style="solid" spacing="yes" background_image="" background_repeat="no-repeat" padding="" margin_top="0px" margin_bottom="0px" class="" id="" animation_type="" animation_speed="0.3″ animation_direction="left" hide_on_mobile="no" center_content="no" min_height="none"][fusion_text]
Frequently Asked Questions
[/fusion_text][/fusion_builder_column][fusion_builder_column type="1_1″ background_position="left top" background_color="" border_size="" border_color="" border_style="solid" spacing="yes" background_image="" background_repeat="no-repeat" padding="" margin_top="0px" margin_bottom="0px" class="" id="" animation_type="" animation_speed="0.3″ animation_direction="left" hide_on_mobile="no" center_content="no" min_height="none"][fusion_accordion divider_line="yes" class="" id=""][fusion_toggle title="Why Do You Need a Security System?" open="no"]
There is an average loss of $1,300 worth of property per burglary!
Today about 1 in 6 home owners has invested in an electronic security system – more and more Americans are saying that they feel safer with a home security system!
Your chances of a break-in are highest right after you move into a new home – Burglars know that most people don't install security systems until 2-4 years after they move in.
Burglars are more likely to break into your home between 9:30 a.m. and 4:00 p.m. while you are at work or school.
Nearly half of burglars enter through the front door, the rest choose other doors and windows
[/fusion_toggle][fusion_toggle title="What Keeps Your Home Safe?" open="no"]
Home security systems have various basic components. They include:
Sounding Device Alerts you and lets intruder know he's been detected.
Magnetic Contacts They form a circuit between a door and the door frame or a window and a sill. When the door or window is opened, it sounds the alarm.
Motion Detectors Passive infrared, photoelectric, or ultrasonic sensors sense harsh environment changes in a room caused by a human presence.
Glass Break Detectors These devices recognize the sound of breaking glass. They activate the alarm when they sense breaking glass in a window or door.
Monitoring A home security system should be connected to a 24-hour central monitoring station. Emergency signals from your home are electronically transmitted to the monitoring station, which immediately summons appropriate responses from police, fire, rescue, or will contact authorized people for low temp or winter conditions.
Other options include:
Closed-Circuit TV A private television system that lets you monitor and/or record inside or outside activity.
Panic Buttons Commonly located next to beds or alongside doorways, or as hand-held remote units, they can be manually activated if you hear a prowler outside or if an intruder tries to force entry.
Stress/Pressure Detectors Placed under rugs in doorways, hallways, window areas or stairways, these devices react to pressure from footsteps and activate the alarm.
Smoke Detectors Provide the earliest possible warning of fire. They should be installed throughout your home.
Security Screens The security system is activated if the screen is cut or the screen is removed.
Modern systems are found both wired and wireless. Although there are important differences, both can be effective in correct applications. A wired system uses concealed or exposed wiring to connect the home security system's components. A wireless system uses radio frequencies to connect system components. Hybrid or combination systems are also available.
[/fusion_toggle][fusion_toggle title="Invest In Peace Of Mind (How Much Do I Invest?)" open="no"]What can you expect to pay to protect your property and family? It's a question homeowners must ask themselves. Generally, there's a security system for every budget.
Costs vary. And it largely depends on which security features you choose and what you want to protect.
When you're ready to buy your system, you can expect a one-time installation fee. If you choose to lease your system, an installation fee may or may not be included in a monthly fee. If you choose to have your system monitored by a central station, you can expect an additional monthly fee.
Insurance Savings
Your home security system can save you money. Typically, insurance companies offer between 10% and 25% discount on a homeowners' policy. Ask your insurance agent which types of systems will qualify you for the greatest savings.[/fusion_toggle][fusion_toggle title="How Do I Select a Security Company?" open="no"]
Contact the Massachusetts Systems Contractors Association (MSCA) for a list of member companies in your area. Members agree to maintain a high level of conduct under our Code of Ethics and render services at the highest level of quality.
Ask to see appropriate state and/or local licenses. Ask if they screen employees before hiring. Massachusetts requires: D license for each installer, C license for each company, and Public Safety license if burglar alarms are being installed.
Ask for the name of the person who will call on you. Plan the appointment when all members of your household are present. When the security professional visits, ask to see company identification.
Ask for an inspection, demonstration and a quote in writing
Study the contract to ensure you know exactly what protection you're getting for your investment. Consider the merits of leasing vs. buying your system.
[/fusion_toggle][fusion_toggle title="How Do I Test a Smoke Detector?" open="no"]The smoke detectors that most people buy over the counter and install in their homes are ionization type detectors. The following instructions are for that type of detector:
The first step is to perform a battery test. To do that, simply press the test button and see if the horn sounds. If it does, then the battery is OK. If the horn does not sound, then the battery needs to be replaced. You may want to provide that service for your prospect or just recommend they do it. Since a battery should last a year, you might suggest changing the battery the same time each year. A major holiday like Christmas or New Years, the spring or fall time change, their birthday, pick a time of year that is easy to remember. Dating the battery is also a good way to be sure of the next time for a replacement. Most monitored systems will report low batteries condition.
The second step is to clean the detector. Dust and cobwebs can reduce their sensitivity to smoke. Vacuum around detectors and use a solution of warm water and Borax to clean the vents leading to the smoke chamber. Be careful not to wet the electronic components.[/fusion_toggle][fusion_toggle title="What Are National Fire Protection Association Recommendations on Smoke Detectors?" open="no"]With regard to the number and placement of smoke/heat detectors, we subscribe to the recommendations contained in the National Fire Protection Association's National Fire Alarm Code (NFPA 72) noted below. Early warning fire detection is best achieved by the installation of fire detection equipment in all rooms and areas of the household as follows: A smoke detector installed outside of each separate sleeping area, in the immediate vicinity of the bedrooms and on each additional story of the family living unit, including basements and excluding crawl spaces and unfinished attics.
In addition, the NFPA recommends that you install heat or smoke detectors in the living room, dining room, bedroom(s), kitchen, hallway(s), attic, furnace room, utility and storage rooms, basements and attached garages.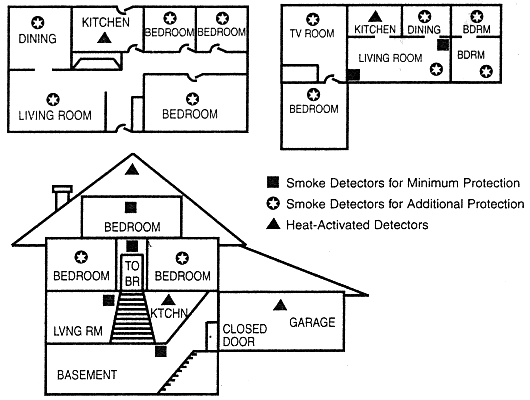 [/fusion_toggle][fusion_toggle title="How Do I Plan for Emergency Evacuation?" open="no"]Establish and regularly practice a plan of escape in the event of fire. The following steps are recommended by the National Fire Protection Association:

Position your detector or your interior and/or exterior sounders so that they can be heard by all occupants.
Determine two means of escape from each room. One path of escape should lead to the door that permits normal exit from the building. The other may be a window, should your path be impassable. Station an escape ladder at such windows if there is a long drop to the ground.
Sketch a floor plan of the building. Show windows, doors, stairs and rooftops that can be used to escape. Indicate escape routes for each room. Keep these routes free from obstruction and post copies of the escape routes in every room.
Assure that all bedroom doors are shut while you are asleep. This will prevent deadly smoke from entering while you escape.
Try the door. If the door is hot, check your alternate escape route. If the door is cool, open it cautiously. Be prepared to slam the door if smoke or heat rushes in.
When smoke is present, crawl on the ground. Do not walk upright, since smoke rises and may overcome you. Clearer air is near the floor.
Escape quickly; don't panic.
Establish a common meeting place outdoors, away from your house, where everyone can meet and then take steps to contact the authorities and account for those missing. Choose someone to assure that nobody returns to the house — many die going back.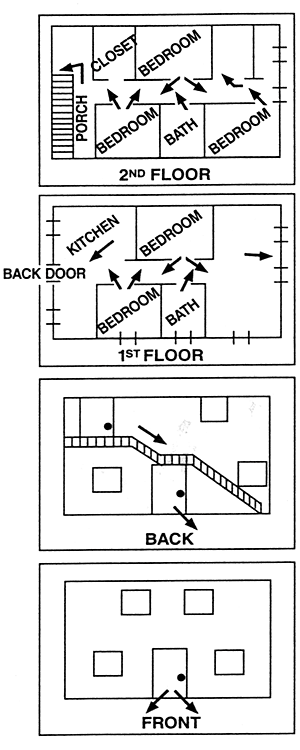 [/fusion_toggle][/fusion_accordion][/fusion_builder_column][/fusion_builder_row][/fusion_builder_container]